Developer Tools – Tribe Home
Tribe Home Pro (formerly known as bazinga!) streamlines your workflow from pre-inspection and owner walk-throughs to post-occupancy and beyond. Our warranty solutions and digital products ensure a smooth homeowner experience and help your new community flourish.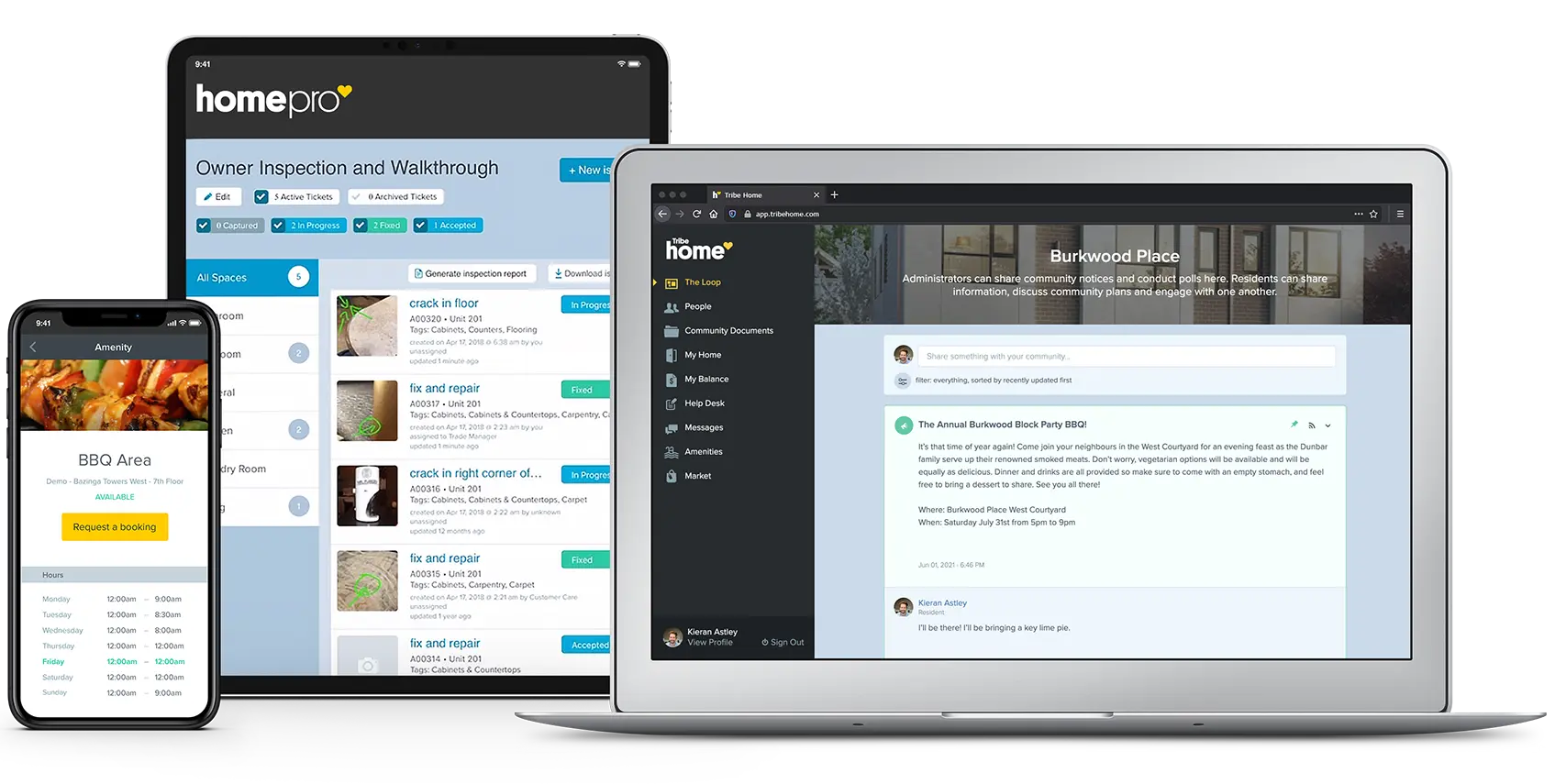 All-in-one-tool
Tribe Home Pro's suite of products is a cloud-based solution expertly built for real estate developers and professionals working with multifamily buildings and homes.
Our app lets you and your teams capture issues, assign work, monitor progress, run reports and hold your trades accountable well beyond handover to community owners and managers.
For over 10 years, Tribe Home Pro's solutions have been implemented in the projects of nearly 100 developers across the country.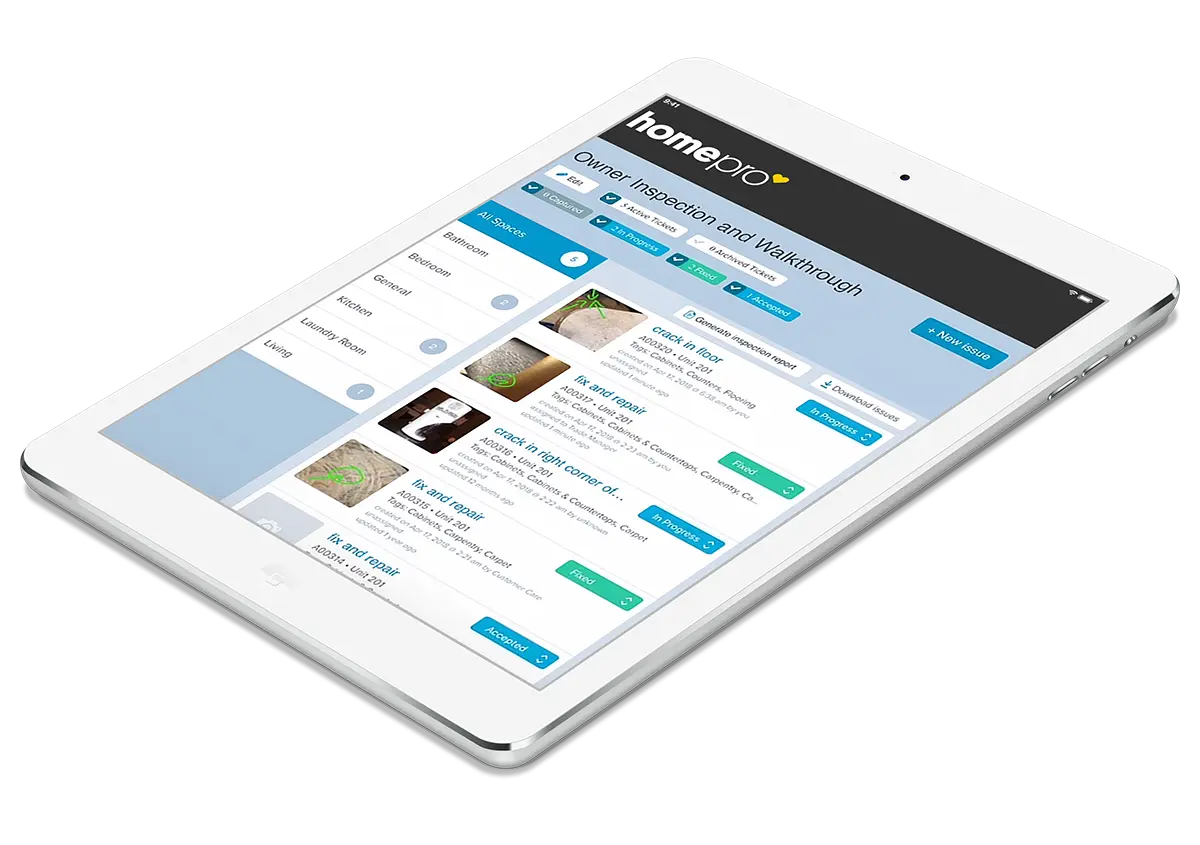 Using Tribe Home Pro, you will

:
Meet deadlines consistently, and reduce delays across your construction teams.

Identify potential threats to your delivery schedule earlier and plan workarounds.

Avoid unnecessary and costly delays in planning and communication across teams.

And more.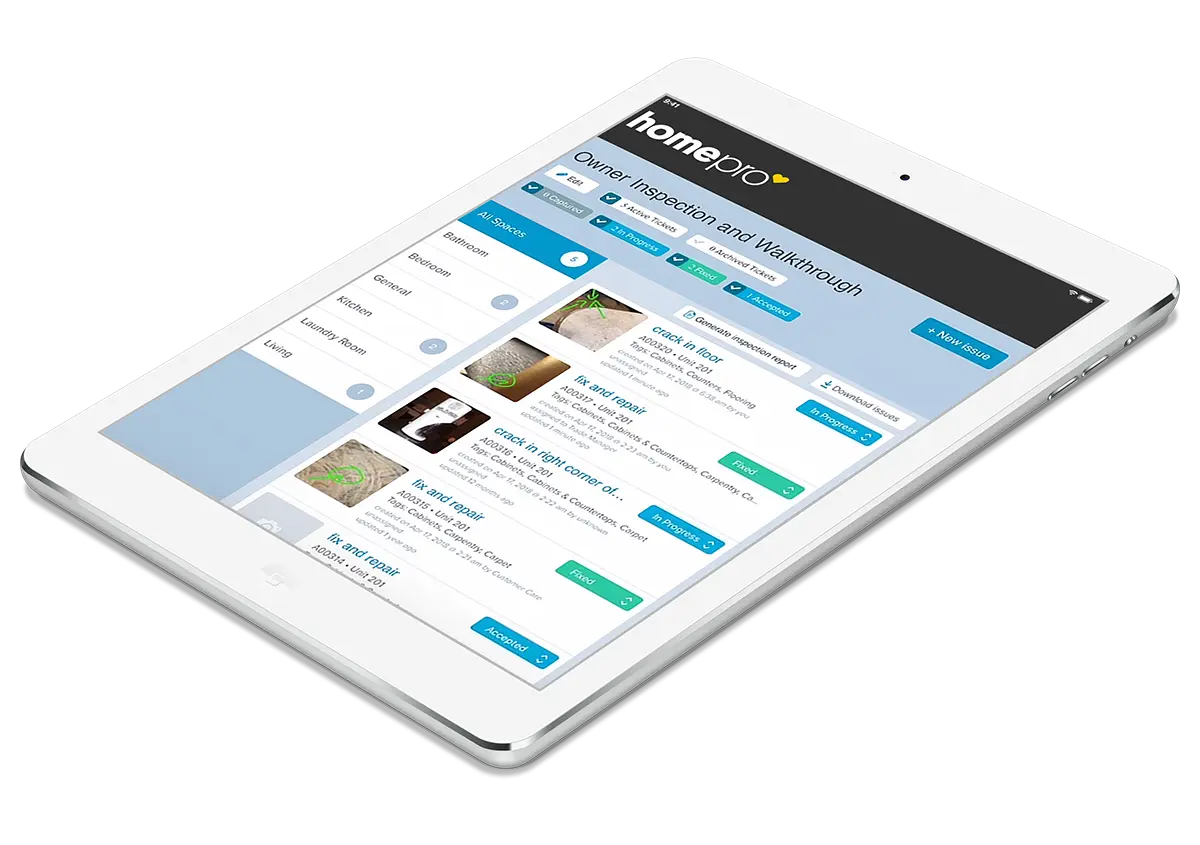 Tribe Home Pro is easy to set up and learn. It has helped North American real estate developers and construction companies like Onni, Tridel, and Bosa save up to 50% of labour time versus traditional methods and solutions.
"The platform breaks barriers allowing all of us to connect in new, meaningful ways to create vibrant  and engaged communities. Simply & beautifully."
-Tridel
"Their tool frees up the time of TWO employees. That's thousands of dollars in monthly savings."
– Multi-Family Condo Developer
"The platform breaks barriers allowing all of us to connect in new, meaningful ways to create vibrant  and engaged communities. Simply & beautifully."
-Tridel
"Their tool frees up the time of TWO employees. That's thousands of dollars in monthly savings."
– Multi-Family Condo Developer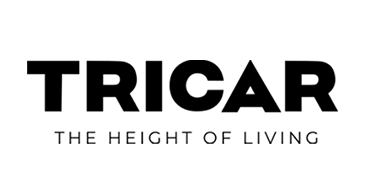 + Dozens more across North America
+ Dozens more across North America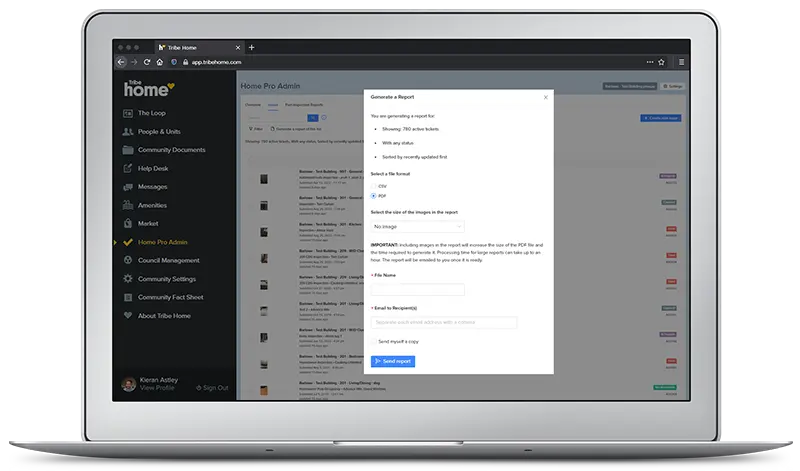 | Inspection/Deficiency Management
Digitally report, track, and manage in-home issues quickly and seamlessly with Tribe Home Pro.
Save time and money
Let our tools do the heavy lifting, saving you time and money by streamlining post move-in submissions directly from your homeowners to your Customer Care team.
Access
Your digital building site is available 24/7 from any device. Get updates on issues as they are submitted and more.
Increased visibility
See and track issues from beginning to end in real time and get insight (visibility) to improve outcomes and efficiency.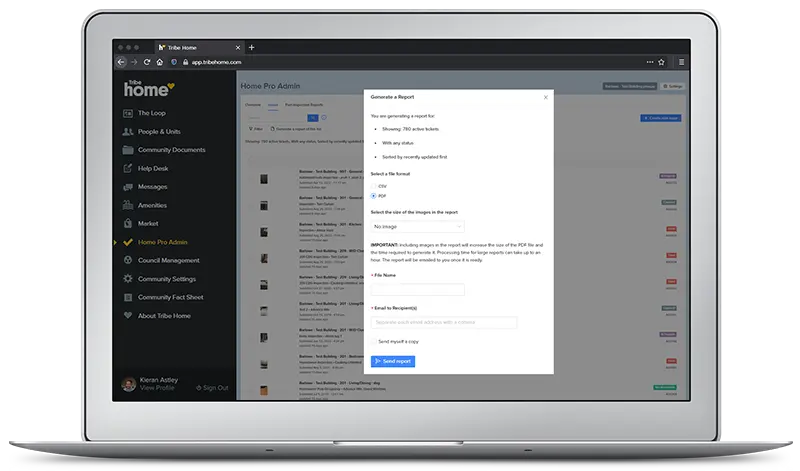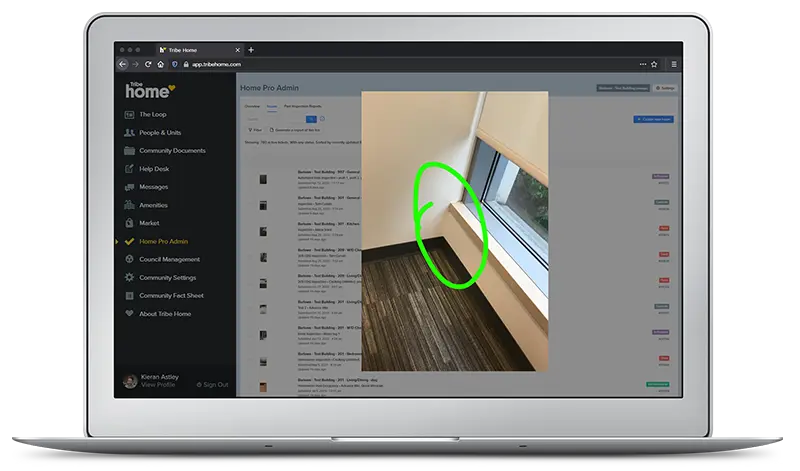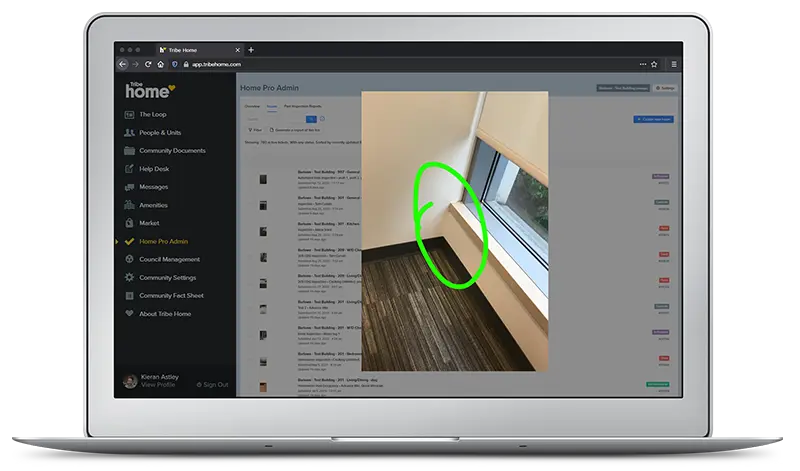 We know managing homeowner issues doesn't end with move-in. Allow your owners to submit home warranty issues after they get the keys.
One single solution
Streamline submissions directly from homeowner to Customer Care team via our post-Occupancy warranty tool.
Increased visibility
Real-time updates on issues submitted. Full ability to track progress. Complete record of all issues submitted.
Seamless Transitions
Smooth transitions of warranty issues from pre-occupancy to post-occupancy without having to track across two ticketing systems.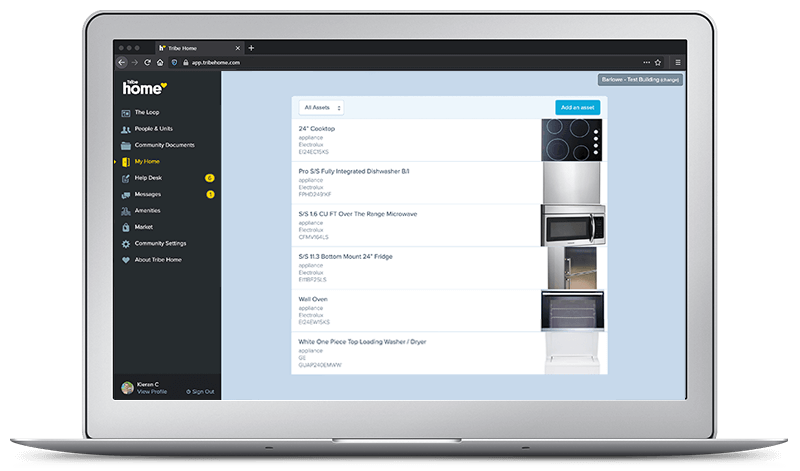 | Digital Homeowner Manuals
Eco-friendly digital manuals mean all homeowner information is easily accessible on the cloud 24/7. Let our team take care of all the uploading and heavy-lifting.
Access
Never lost, never damaged. Owners can find and access documents and manuals from anywhere, at any time.
Control
Owners can control who has access to unit documents – whether it be tenants, family members and more.
Customization
This customizable database reflects the evolution of the home. Owners can add, edit, or remove appliances, manuals and home information as needed.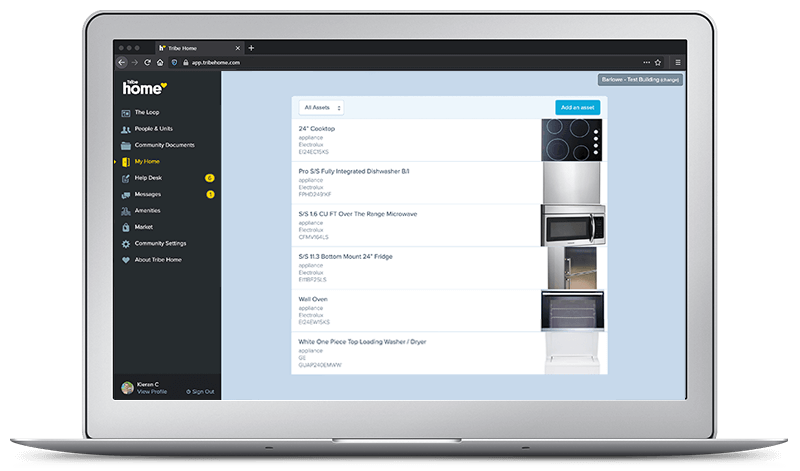 Supported Developers and Builders
Do you have questions or want to reach out?

Frequently Asked Questions
What is your pricing?
We set prices according to each build's specific project conditions, including the number of homes and type of building or community.
Please get in touch to get an estimate, as project size and composition will influence pricing.
What is included in the Tribe Home Pro solution? 
Tribe Home Pro has four core tools to help keep you organized and on track: 
1.  A PDI or Deficiency and Punch List app 
With this app, you can easily capture details, organize progress, and report every issue and deficiency found in a brand-new building.   
 Issues are digitally captured so that the data can be shared in real-time with your internal stakeholders.  
A Manual Digitization tool
Digitize the information about each home and the contents of each home in an app that is available 24/7. Include appliance use and care manuals, serial numbers, fixture information, paint colours or anything else about the home you would like to pass on to the owner or resident in a digital app.  
A Post Move-in Service Requests and Warranty Submissions
Once a resident moves in, they will notice small things that are common issues in every new building. They can use this tool to submit new issues directly into our system.   
Once submitted, you use our robust reporting and organizational tools to track and update residential deficiency issues in real time.    
A Community Portal 

 
Use our Portal to connect with your residents and help foster community in your new building. Supplement that interaction with in-app tools that help residents navigate the early stages of living in a new community.  
Do you always need an internet connection for the tool to work? 
No. Our iPad app lets on-site crews work offline, so your teams can always get the job done. 
When working in offline mode, work is saved directly to the iPad. When an internet connection is available, that work is uploaded and synchronized with project data stored in the cloud.  
No matter where that inspection is happening or how unreliable the internet connection is, you can still meet with the homeowner or resident and capture all important information reliably. 

Have questions? Get more info about our solutions today!
Navigating the complexities of real estate development requires region-specific knowledge and people. Book a free Demo to explore our suite of tools tailored to your challenges, discover best practices, and get answers to your questions from our knowledgeable professionals.
Select your preferred region to view available demo times and connect with an expert close to you.
Did you know we simplify community living throughout the planning, construction and management of a building?
Explore our solutions to learn more about our strata/condo management, rental and commercial management and rental software.