The industry is in need of a change. We unlock value through our direct partnerships and fully-integrated strategy.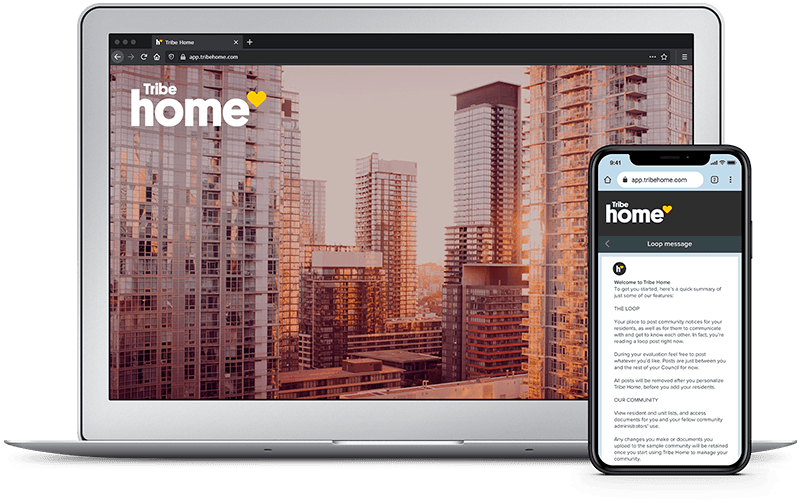 Tribe is a property technology company, disrupting the traditional condo and rental management industries. Tribe's platform decreases customer acquisition costs, increases retention and allows for the addition of value-added products and services through the platform which is expected to drive increased profitability.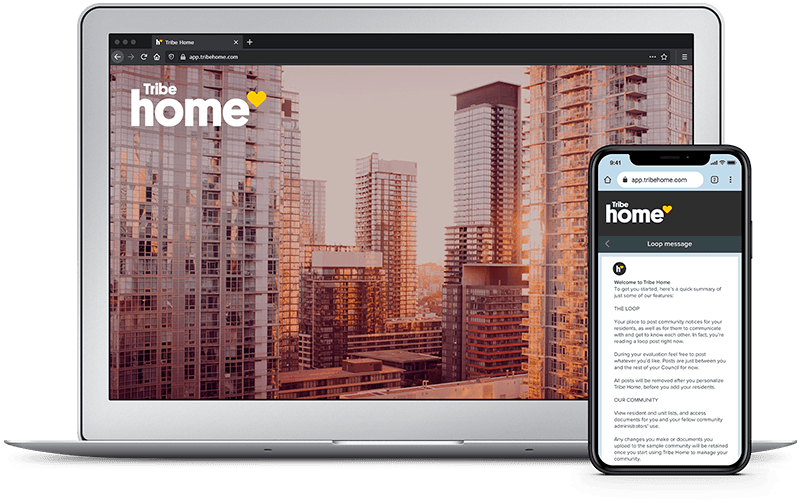 Disrupting an Industry
People-focused model enables the provision of additional value-added products and services that improve the experience of residential community living from smart building technology and building automation to in-home services.
Leading Digital Platform
Fully integrated digital platform that services a wide variety of stakeholders which lowers customer acquisition costs and increases stickiness leading to a low churn rate.
Rapid Market Growth
Community living has increased almost 10x between 1980 and 2019 and accounts for over 70 million people. Payments of over $90+ billion were collected from owners in communities in 2019 (1).
Strong Financial Performance
Strong growth profile with revenue growth from less than $3 million in 2018 to $16 million forecast in 2021, with monthly recurring revenue comprising a majority (2).
Proven Acquisition Track Record
Purchased five companies to date, in a fragmented market that can be acquired at service multiples
Experienced Management Team
Large insider ownership that aligns shareholders and management, led by an executive team with hyper-growth, tech, product, capital markets and property management expertise and supported by an experienced and influential Board of industry leaders.
(1) Source: Community Associations Institute National Staistical Review for 2018
(2) Please refer to forward-looking financial information disclaimer under Materials section on this page – in Disclaimer, Handout, or Investor Deck materials.
VANCOUVER, BC, Aug. 2, 2022 /CNW/ - Tribe Property Technologies Inc. (TSXV: TRBE) (OTCQB: TRPTF) ("Tribe" or the "Company") is pleased to announce the completion of its acquisition of a portfolio of strata property management assets from Martello Property Services...
For further information or to schedule a presentation please email
IR@tribetech.com
"Unlike at other companies, Tribe staff are hardworking, reliable, and reachable. Our manager replies usually within minutes to emails and is also reachable by phone. He is super helpful, incredibly knowledgeable, always friendly and professional."
- Jenny, Council Member  
"I feel so fortunate we switched to Tribe. You guys are truly great at what you do!"
- Sarah, Council Member
"After having gone through years of poor property management with two prior management companies and more property managers than I can recall, I was pleasantly surprised by the responsiveness and professionalism from Tribe and our Community Manager."
- Hopper, Council Member  
"This is my fourth year as a council member and it gives me great pleasure to say that our manager is the first manager to give me the feeling, he is genuinely committed to meeting the needs of our council and strata corporation."
- Tonia, Council Member  
"I'm always reassured when I see that a building  is managed by Tribe and their software."
- Jeff, Vancouver Rental Property Management Company  
"Their tool frees up the time of TWO employees. That's thousands of dollars in monthly savings."
- Multi-Family Condo Developer
"The platform breaks barriers allowing all of us to connect in new, meaningful ways to create vibrant and engaged communities. Simply & beautifully.  
- Tridel 
"...Is changing the way people interact with
their neighbours and interface their neighbours and interface with their homes."
- Techvibes  
"The coolest online partner a condominium ever had." 
- Toronto Star