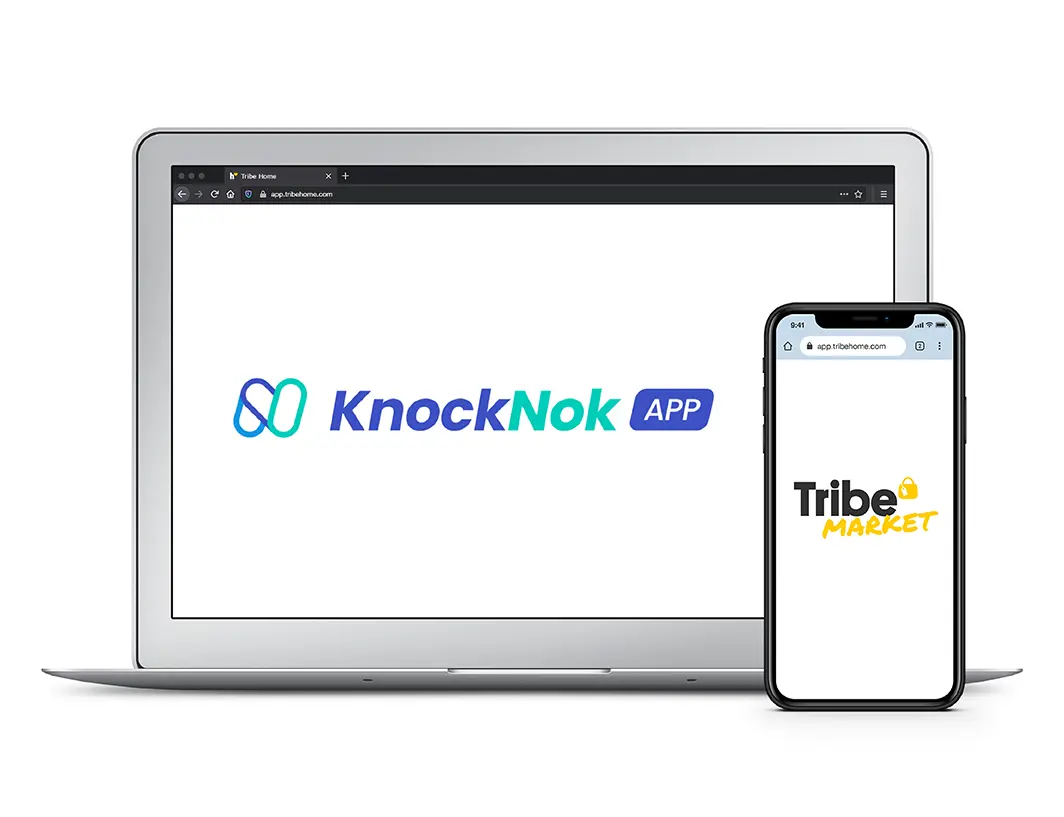 Partnership with KnockNok App will provide Tribe residents with a one-stop shop for all their household maintenance and repair needs, with over 50 services ranging from cleaning, appliance repair, plumbing and heating, to home improvements.
The KnockNok partnership adds to Tribe Market's robust service offering of over 20 partnerships and is currently available to Tribe-managed buildings on the platform in British Columbia and Ontario, with Alberta soon to be available in Fall 2023.
Vancouver, British Columbia – July 27, 2023 – Tribe Property Technologies Inc. (TSXV: TRBE; OTCQB US: TRPTF) ("Tribe" or the "Company"), a leading provider of technology-enabled property management solutions, is pleased to announce a partnership with KnockNok, an app aiming to connect people who need home maintenance and repair services with experienced handymen. The partnership will provide Tribe residents with a one-stop shop for all their household maintenance and repair needs, with over 50 services ranging from cleaning, appliance repair, plumbing and heating, to home improvements. Tribe residents will be offered an exclusive discount, special care and priority, as well as a 60-day free job warranty for every booked service request on the platform.
"We are glad to be partnering with KnockNok to provide a new service partnership for our Tribe communities." said Joseph Nakhla, Tribe CEO. "We recently completed a survey of the owners and residents on our platform and the top priority they were looking for in terms of services to simplify their condo living experience was in-suite home/condo maintenance and renovation services. Hence, we are extremely happy to be bringing that service to our residents and to be adding this service to our robust offering on the Tribe Market platform."
The service partnership with KnockNok will be available on the Tribe Market platform, a marketplace designed to support efficiency and financial ease for homeowners and residents of Tribe's multi-family communities. Through Tribe Market, the Company can curate offers that leverage group-buying power and help lower household overhead of residents. With over 20 partnerships with service providers ranging from internet, phone, cable, insurance, food delivery, and more, residents can now search for services that are important to their needs, while service providers can ensure their offers are going to the most relevant audiences. The KnockNok partnership is currently available on the Tribe Market platform across all Tribe-managed buildings in British Columbia and Ontario, with Alberta soon to be available in the fall of 2023.
KnockNok COO Hazem Tarawneh added, "We are delighted to be working with Tribe and look forward to offering our services to the Tribe community of residents. We see a huge opportunity for us to be of service to Tribe's communities and recognize that we can fill an important need for many multi-family communities of not having easy access to experienced trades that can help with home maintenance and repair services."
The agreement between Tribe and KnockNok was signed on June 27, 2023.
About Tribe's Digital Partnership Program
Tribe receives compensation from partners for use of the Tribe Home platform. The Company's partners also commit to providing a special offering for Tribe's homeowners/tenants allowing them to take advantage of Tribe's group buying power. The type and amount of compensation varies from partnership-to-partnership but generally falls into one, or a combination, of the following models:
One-Time: Tribe receives a one-time fixed or variable fee for each transaction that occurs through their platform; and/or
Residuals/Recurring: After the initial transaction, the Company receives ongoing revenue for as long as the service remains in place.
About KnockNok App
The KnockNok App by Gaia Technologies features 50+ household repair and maintenance service categories and works with both homeowners and property management companies. With operations currently in Toronto, Vancouver, Houston, and Ottawa, and expansion plans throughout USA and Canada, KnockNok aims to be the No. 1 Home Maintenance Marketplace. The app has more than 3,000 trusted and screened technicians and handymen to help customers in North America and is now launching partnerships with property management companies in Ontario and British Columbia. These partnerships will allow KnockNok to better serve its mission and continue to drive innovation in the industry.
About Tribe Property Technologies
Tribe is a property technology company that is digitizing the traditional property management industry. As a rapidly growing tech-forward property management company, Tribe's integrated service-technology delivery model serves the needs of a much wider variety of stakeholders than traditional service providers. Tribe's three revenue pillars are made up of software and service (recurring licensing and management fees), transactional (rent or condo fees, banking services, lease-ups) and digital services and partnership (smart building products, financial and insurance service) revenue. Tribe seeks to acquire highly accretive targets in the fragmented North American property management industry and transform these businesses through streamlining and digitization of operations. Tribe's platform decreases customer acquisition costs, increases retention, and allows for the addition of value-added products and services through the platform. Visit tribetech.com for more information.
ON BEHALF OF THE BOARD
"Joseph Nakhla"
Chief Executive Officer
Tribe Property Technologies Inc.
Joseph Nakhla
Chief Executive Officer
1606-1166 Alberni Street
Vancouver, British Columbia V6E 3Z3
Phone: (604) 343-2601
Email: joseph.nakhla@tribetech.com
For more information, please contact:
Pardeep Sangha
Investor Relations
Email: ir@tribetech.com
Cautionary Statement on Forward-Looking Information
Neither the TSX Venture Exchange nor its Regulation Services Provider (as that term is defined in the policies of the TSX Venture Exchange) accepts responsibility for the adequacy or accuracy of this release.
This news release contains forward-looking information within the meaning of applicable Canadian securities laws regarding the Company and its business.  When or if used in this news release, the words "anticipate", "believe", "estimate", "expect", "target, "plan", "forecast", "may", "schedule" and similar words or expressions identify forward-looking information. Forward-looking information in this news release may relate to statements with respect to the aims and goals of the Company; financial projections; growth plans including future prospective consolidation in the property management sector; future acquisitions by the Company; beliefs of the Company with respect to the independent owner-investors market; prospective benefits of the Company's platform; prospective benefits of the KnockNok partnership; and other factors or information. Such information represents the Company's current views with respect to future events and are necessarily based upon several assumptions and estimates that, while considered reasonable by the Company, are inherently subject to significant business, economic, competitive, political, and social risks, contingencies, and uncertainties. Many factors, both known and unknown, could cause results, performance, or achievements to be materially different from the results, performance or achievements that are or may be expressed or implied by such forward-looking information. The Company does not intend, and do not assume any obligation, to update forward-looking information to reflect changes in assumptions or changes in circumstances or any other events affecting such statements and information other than as required by applicable laws, rules, and regulations.